Back in the late '90s and through the new millennium, the battle for FWD supremacy was quite heated. Honda / Acura was considered the peop...
Back in the late '90s and through the new millennium, the battle for FWD supremacy was quite heated. Honda / Acura was considered the people's favourite in the segment with its almighty Integra Type R (ITR) sitting atop the heap as the high-revving king. However, there was a growing contingent of enthusiasts backing a number of alternate rides, including the seventh-generation Toyota Celica GT-S that was released in 2000 and poised to knock the ITR off its throne. While the Celica fell short on matching the pure performance of the ITR, it still retained many of the creature comforts that made it a great daily driver. Originally, Johnny Ngo picked up this 2002 Toyota Celica GT-S to be a stylish-yet-reliable commuter, but was bit – make that devoured – by the tuning bug shortly after.
"I started to build this car because I started seeing more and more Celicas on the road," says the Bill Analyst who calls Sacramento, CA home, "many of them with factory kits thinking that their cars were the hottest on the road." In an effort to break away from that crowd, Ngo began to slowly mod his car in his own vision.
His initial plans of a slightly modified car went out the window when he laid his eyes on the APR Performance Toyota Celica that debuted in 2003. "I saw the APR kit for the first time in September 2003 and fell in love with it. I picked up the kit shortly after it released and things started to come together from there," says Ngo.
At the heart of this Celica lives a 1.8L motor that is rated at 180hp at 7,600rpm. However, in his constant pursuit for tire-shredding power, he turned his attention to C2 Power in Hungary for its 2ZZ-GE bolt-on turbo system. Using a Garrett GT28-RS 'disco potato' turbocharger for quick-spooling, the system fits snugly in the confines of the Celica's tight engine bay. With the turbo at full boil, Ngo's Celica is producing 260hp at the front wheels. Not bad considering that doesn't include the use of his Nitrous Express 50-shot nitrous system and the fact that all of the engine mods were performed by himself and members of his Jinsoku car crew.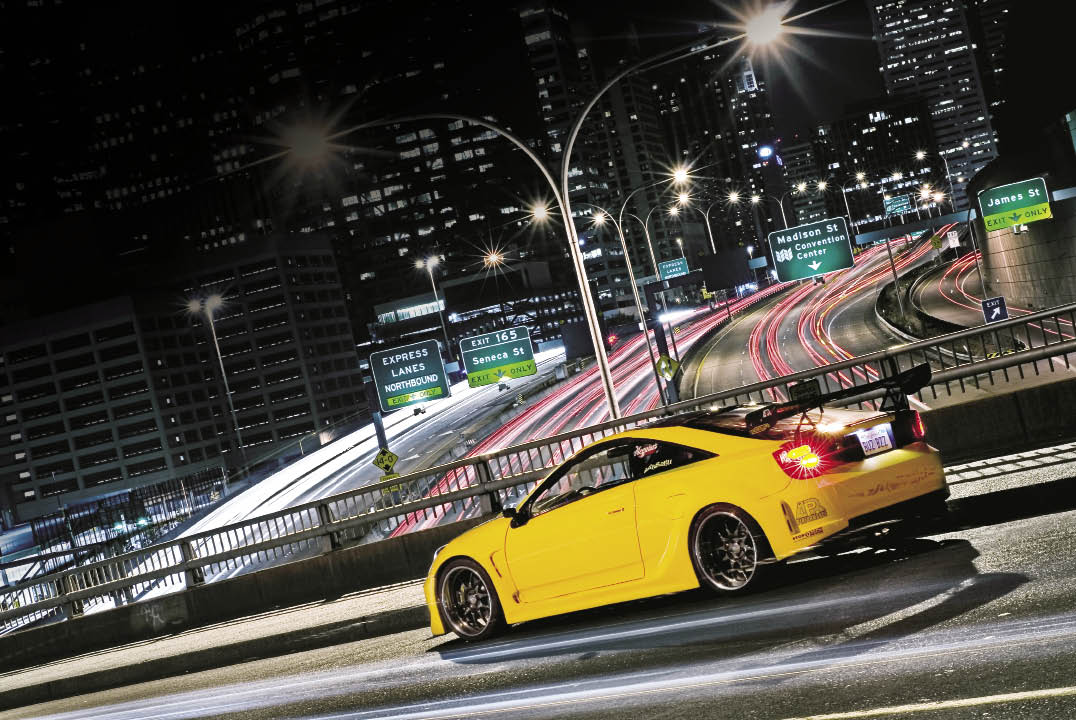 Filling the massive wells is a set of super sexy JLine 10RL2 two-piece wheels. Featuring a high-polish finish and classic split five-spoke design, the rollers measure 19 x 8 inches up front and 19 x 10 inches in the rear. With serious street performance on his mind, Ngo trapped the wheels inside a set of 235 / 35 (front) and 275 / 30 (rear) r
oad-gripping T1R tires from Toyo.
Highly regarded as one of the best handling and braking vehicles in the sport compact segment, Ngo had to be careful not to mess up a good thing. Fortunately, he didn't mind spending the extra cash, choosing to go with JIC FLT-A2 adjustable coil-overs to dial-in ride height, rebound and dampening. The inverted-shock system is JIC's flagship coil-over and together with Hotchkis sway bars and an APR Performance strut bar, provides Ngo with a no-nonsense setup for the street.
Putting the halt to any forward motion and keeping Ngo's beloved APR widebody kit from harm's way is Stoptech's intense big brake upgrade. Using 12.9-inch rotors and six-piston calipers in front and slotted rotors in the rear, this Celica not only stops on a dime, but will probably exchange it for a nickel and handful of shiny pennies.
Shifting his attention to the interior, Ngo turned to the Team Prototype guys again to work their carbon fibre magic. The centre console and A-, B- and C-pillars received the special carbon treatment, as well as portions of the door panels. Tying the car's yellow / black theme together, Ngo was able to get his hands on a set of limited edition Recaro Tomcat reclining bucket seats. Only 75 pairs of the Tomcats made their way out of the Recaro factory, making these seats the automotive equivalent of a pair of Nike limited release sneakers. Matching Tomcat 'honeycomb' material is incorporated in the door panels and headliner, while custom-mounted Stewart Warner gauges serve as supplemental displays to the factory cluster.
Ngo's mobile theatre consists of a Pioneer AVIC N1 head unit mounted in the dash that serves not only as a DVD / CD / MP3 source unit, but a GPS unit to provide navigation as well. Acoustics are provided by an Audiobahn sound system featuring an Audiobahn A6004T four-channel amplifier for the mids and highs, and Audiobahn A12001DT D-class mono-block amp for the hard-hitting bass. Auditory bliss comes via Audiobahn's 6.5-inch component set in the doors and two Audiobahn Ultra Excursion 12-inch subwoofers that are inversely mounted in a fibreglass enclosure in the trunk area. A couple Audiobahn capacitors work with Tsunami wiring and distribution blocks to ensure that the power supplied by the Optima Yellow Top battery gets to all the components smoothly.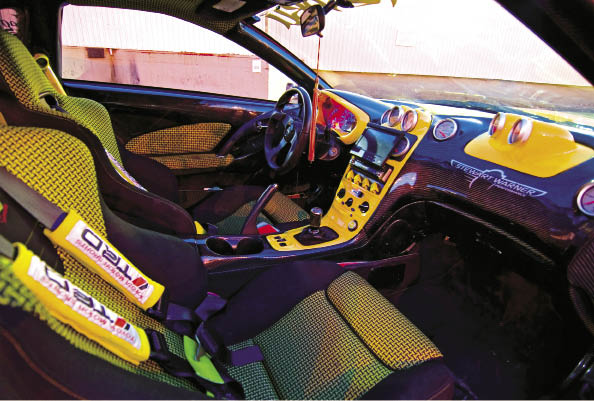 Ngo's Celica leads a double life, serving as his daily driver and terrorizing the show circuit on weekends. Rolling with the Florida-based Jinsoku crew, he was commissioned to help start the West Coast chapter of the team. To show his dedication, he made the 30-hour drive across the country to personally meet with the team at HIN Miami in 2004! Thanks go out to all of his supporters, including APR Performance, Audiobahn, Bay Audio, Centerforce, Fidanza, Ignited Performance, Intense Motorsports, JLine, JIC USA, Meguiar's, Nitrous Express, Optima, Ozmotive, PIAA, Recaro, Stewart Warner, Stoptech, Toyo Tires, Tunerlife and Valvoline. Ngo has no plans to slow down, as he's determined to show the big boys that daily drivers can take home the hardware too.
The 2ZZ-GE engine in the Bumble-Bee Celi is both turbocharged (C2 Performance kit built around a Garrett GT28RS hairdryer) and nitrous oxide injected (NX 50hp wet kit), making for a lean and mean 260whp sting without the juice!
THE ESSENTIALS
Owner: Johnny Ngo
Location: Sacramento, CA
Vehicle: 2002 Toyota Celica GT-S
ENGINE MODIFICATIONS
C2 Power turbo system built around GT28RS turbo
Polished, front-mount air-to-air intercooler
SARD R2D2 blow-off valve
Nitrous Express 50-shot nitrous system
A'PEXi Intake
A'PEXi Power FC
Blitz dual exhaust
Denso ignition coils and plugs
RC Engineering 550cc fuel injectors
Happy's grounding kit
Centerforce dual-friction clutch / Fidanza flywheel
EXTERIOR
APR GT-300 15-piece wide-body kit
Lamborghini Yellow / House of Kolor Gold Pearl paintjob
ViS carbon fibre hood
APR carbon fibre wind splitter
APR diffuser
JDM TRD rear license plate garnish
APR Formula GT3 mirrors
JDM TRD side visors
Team Prototype carbon fibre roof and rear hatch.
TYC red / smoke taillights
6,600K HIDs with PIAA bulbs and Hella ballasts
WHEELS & TIRES
JLine 10RL2 two-piece Wheels
F: 19 x 8 inches
R: 19 x 10 inches
Toyo T1R Tires
F: 235 / 35-19
R: 275 / 30-19
BRAKES
Stoptech 12.9-inch rotors and six-piston calipers
SUSPENSION
JIC FLT-A2 adjustable coil-overs
Hotchkis sway bars
APR Performance strut bar
INTERIOR
Recaro Tomcat Seats
Tomcat 'honeycomb' material in doors and headliner
Carbon fibre-covered centre console, A-, B- and C-pillars and door panels
Stewart Warner gauges
AUDIO / MULTIMEDIA
Pioneer AVIC N1 Head Unit
Audiobahn A6004T four-channel amp
Audiobahn A12001DT D-class mono-block amp
Audiobahn 6.5-inch component set
Audiobahn Ultra Excursion 12-inch subwoofers (2)
Audiobahn capacitors
Audiobahn 7-inch monitors (2)
Tsunami wiring and distribution blocks
Optima Yellow Top battery
source: pasmag